I get way too stressed out every afternoon when I suddenly realize that it is 4:30 and I have not thought of dinner. We end up eating macaroni & cheese and sandwiches. That is fine every now and then, but not twice a week. I decided I needed to go back to meal planning.
This week I decided I needed to make shrimp because I had some in my freezer. I didn't want to serve it over pasta because I was going to have tortellini another night. I paged through the
How to Cook Everything
cookbook I checked out from the library and found the recipe for Roasted Shrimp in Herb Sauce.
I wasn't sure what to serve with it. I figured I would make some rice and buy a vegetable. The next day I got the
Splendid Table weekly email
with a recipe for roasted asparagus. There was my vegetable side.
A couple days later I read the
Wednesday Chef's post about baking rice
. I sent an email off to my sisters & mom about cooking rice, which turned into a discussion of jack cheese rice, a side dish we had a lot growing up. I hadn't made it in years.
My meal was set.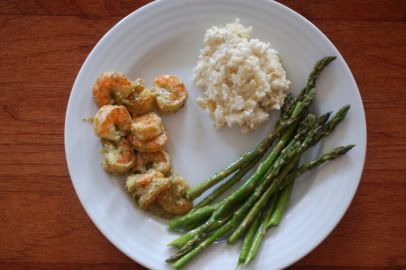 And it was good!
Roasted Shrimp with Herb Sauce
How To Cook Everything Mark Bittman
2 cloves garlic, peeled

1/3 cup extra virgin olive oil

6 scallions, trimmed and roughly chopped

1 cup parsley (thin stems are okay; discard thick ones)

Salt and freshly ground black pepper

2 pounds shrimp, in the 20 to 30 per pound range, peeled

1/3 cup shrimp, fish, or chicken stock, white wine, or water
Preheat the oven to 500 F. Combine the garlic and oil in the container of a food processor and blend until smooth, scraping down the sides as necessary. Add the scallions and parsley and pulse until the mixture is minced. Toss with the shrimp, salt, pepper, and chilis.

Put the shrimp in a roasting pan that will accommodate them comfortably. Add the liquid and put the pan in the oven. Roast, stirring once, until the mixture is bubbly and hot, and the shrimp all pink, 10 to 15 minutes. Serve immediately.




Roast Asparagus with Lemon & Parmigiano-Reggiano Furls
The Splended Table newsletter
1-1/2 pounds pencil-slim asparagus, trimmed of tough stems

2 tablespoons extra-virgin olive oil

1 large clove garlic, minced

Salt and freshly ground black pepper

Juice of 1 lemon

About 3 ounces Parmigiano-Reggiano cheese in a chunk (if not to be had, use Asiago, a sharp cheddar, or any other nutty tasting cheese)
1. Preheat oven 450 degrees F. Soak asparagus in a sink full of cold water for 5 minutes. Drain and gently roll in paper towels to dry.
2. In a large shallow baking pan, roll asparagus with oil, garlic, salt and pepper. Spread out in a single layer. Roast 3 minutes, or until tender crisp. Test by tasting or piercing with a knife to see there is still some firmness. Remove with tongs to a platter.
3. Just before serving, taste for salt and pepper. Sprinkle with lemon juice. With a vegetable peeler, shave furls of the cheese over the asparagus. Serve hot or at room temperature.
Jack Cheese Rice
1 cup rice, (2 cups cooked)

1 cup sour cream

1 can chopped green chiles

1 cup jalapeno jack cheese, shredded

parmesan cheese

Combine all ingredients and put in a casserole dish. Top with parmesan cheese (optional). Bake until bubbly at edges.