I planted a basil plant about a month ago. It wasn't doing so great until we went on vacation. I had my husband put the sprinklers on to water that bed every night. When we came home, I found out that I hadn't been watering enough. The basil plant had doubled in size in about a week.
Since it is so big, I decided tonight that I needed to actually cook with it.
I sent the kids out to gather the basil. They got quite a bit. I hope there is some left on the plant.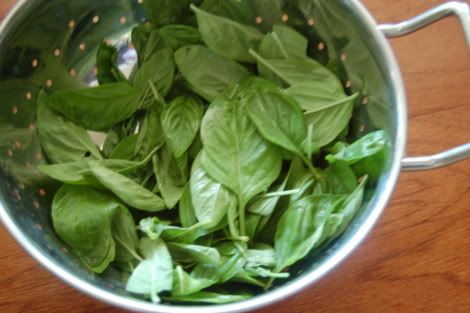 Pesto
adapted from Simply Recipes blog



2 cups basil, packed

1/2 cup Parmesan cheese

1/2 cup olive oil

1/3 cup walnuts (or pine nuts, but I was out)

3 cloves garlic


salt
Add walnuts to food processor and pulse a few times. Add basil and process. Add garlic and process. Add cheese and process. Add salt and process.
I sauteed some chicken strips and served them over pasta with pesto sauce. DH hasn't stopped telling me how terrific dinner was, so I guess it turned out okay.