It has been months since I've posted here. This post is from Easter. Yes, Easter was in March and it is now almost May. It's been on my to-do list forever and I'm just now getting around to it.
I got this recipe from the
Chronicle Books Coffeecake cookbook
from my friend in Seattle. She sent it to me for my birthday because she has loved so many recipes from it. The first one she mentioned to me was the strawberry coffeecake. Now, I'm not a fan of fruit in general. I'll eat a nice tart granny smith, an occasional crisp sweet-tart grape, a clementine when in season. I've recently ventured in the the realm of fuji apples and enjoyed them. But I have a texture issue with most fruit and rarely eat them.
This recipe was well recommended so I decided to give it a try. I made it last September for a meeting of my women's group from church. I was entirely surprised to find that I really liked it. The cream cheese base was delicious and even the strawberry were good (chopped in small pieces.) When I ate it I thought of something different.
Black raspberry jelly. I never eat jelly (back to my issues with fruit) except for black raspberry jelly in a jelly pie. My grandmother used to take her leftover pie crust, slater it with black raspberry jelly, fold it in half and bake it. It was delicious.
I wanted to try the cake again but never really had a reason until Easter. We had brunch with the ILs and I finally had a chance to make this coffee cake again. I decided, in case my jelly idea was crazy, I would make two. One strawberry and one black raspberry. Luckily I was right. The jelly was terrific. Better than the strawberry, if you ask me and the rest of the family who gobbled it down.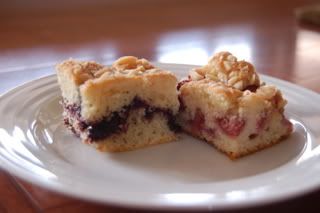 Strawberry (or Black Raspberry) Coffeecake
adapted from Coffeecakes from Chronicle Press
8oz cream cheese at room temperature

9 Tbs unsalted butter at room temperature

3/4 cup granulated sugar

1/4 cup milk

2 large eggs

1 tsp vanilla extract

2 cups unbleached all-purpose flour

1 tsp baking powder

1/2 tsp baking soda

1/4 tsp salt

3 cups fresh strawberries, sliced

1/4 cup firmly packed brown sugar

1/2 cup chopped almonds or walnuts

Preheat the oven to 350 degrees. Butter and flour a 9x13 baking pan

Combine cream cheese, butter and sugar and beat with until light and fluffy. Stir in milk, eggs and vanilla. Beat thoroughly. Combine flour, baking powder, baking soda and salt. Add to cheese mixture and beat until smooth. Spread half of batter in prepared pan. Scatter the berries evenly over the batter. Dot the remaining batter over the berries. Mix the brown sugar and nuts together and sprinkle over the batter

Bake for 40 minutes or until the cake is golden brown.

When I made the black raspberry version, I just put dollops of jelly over the base dough.