I had so much luck with the chicken biscuit pie, I thought I would try another Family Fun recipe. A requested spaghetti (she likes her noodles, doesn't she) so I tried their meatballs. They were quick and easy to make. I used the
leftover spaghetti sauce
. There wasn't quite enough(I like a lot of sauce) so I added one serving of the
tomato soup
. It was a terrific dinner.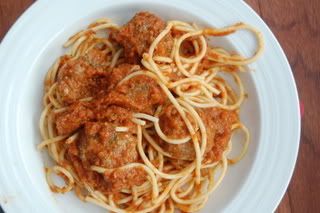 Meatballs
adapted from FamilyFun.com
1/4 c finely chopped onion

1/2 c minced italian parsley

1/2 c parmesan cheese

1/2 c bread crumbs

1 1/2 T Worchestershire sauce

2 eggs

1 1/2 lbs lean ground beef

1 t oregano

1 t basil

1/2 t garlic powder

1/2 t salt

1/8 t pepper

Preheat oven to 350

Put all ingredients into a large bowl and mix with your hands

Form into walnut size balls. Place on ungreased cookie sheet.

Bake 20-25 minutes until well browned.
I think next time I would put them on a cooling rack thing so they don't sit in the grease. I also turned them halfway through so they didn't get too brown on the bottom.