Friday nights in Lent are hard for me. There is only so much tuna helper I can stomach. All the children eat it so I can't complain too much. It is far from an ideal dinner for me.
Last Friday morning I asked the kids what they wanted to dinner. Both of them said cheese pizza. Again, not my ideal dinner, but better than tuna helper. I decided rather than speed-dial Franki's (the neighborhood pizza joint) I would make it myself. I could run to the store for some small shrimp and spinach and make a fancy pizza for DH & I and leave the cheese for the kids.
As things normally go, I only got as far as making the pizza dough. A had soccer practice and we ended up eating Indian food with the M cousins instead. (My kids did surprisingly well eating Indian food, they had some chicken dish light on the curry spice and A & B ate well, J fell asleep. I should have known he was getting sick.)
The dough came in handy on Saturday. After attending another soccer game, the M cousins came over for dinner. I made 2 cheese pizzas & the adults ordered in Mexican food.
I'm still on the whole wheat kick but I don't think anyone suspected there was anything different (except my sister who noticed the color of the dough was a little dark.) There were only 3 pieces left so I guess they really liked it.
I don't have pictures of the pizzas, but here's my dough before rising.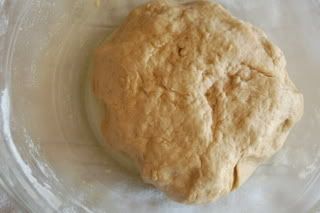 Whole Wheat Pizza Crust
adapted from AllRecipes.com recipe
1 t sugar

1 1/2 c warm water

1 T dry active yeast

1 T olive oil

1 t salt

2 c whole wheat flour

1 1/2 c all purpose flour

In a large bowl, dissolve sugar in warm water. Sprinkle yeast over the top and let stand for 10 minutes until foamy.

Stir olive oil & salt into the yeast mixture. Then mix in whole wheat flour and 1 cup of all purpose flour until dough comes together. Sprinkle remaining flour on surface and knead dough until flour has been absorbed and the dough becomes smooth, about 10 minutes. Place dough in an oiled bowl and turn to coat. Cover loosely with a towel and let stand in a warm place until doubled.

Once it had double, punch the dough and knead a couple of times. Allow it to rise again until double, about 45 minutes.

Preheat oven to 425. Bake pizza 16-20 minutes depending on thickness of crust.