This afternoon at 3:50 I started the never ceasing task of deciding what's for dinner. I looked in my barren fridge to see what I could make. I had chicken, eggs, onion. Not much. I checked the pantry. I saw basic staples but nothing remotely interesting.
So I did what I normally do (and no it isn't call out for pizza, although the children would have love that!) I googled chicken for dinner.
I ended up on the FamilyFun recipes website. They have a whole month of menus available with main course, vegetable and dessert. How cool is that. I checked out the menu for today but I didn't have the ingredients.
Then I saw the menu for next Sunday. Chicken and Biscuit Pie. It sounded promising. I thought it would use canned biscuits which I didn't have. I was surprised to find that it had it's own basic biscuit recipe. This was it.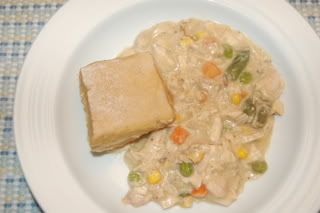 Chicken and Biscuit Pie




adapted from FamilyFun.com



Filling:

4 T butter

1 c chopped onion

1 rib celery chopped

1/3 cup flour

1 1/2 c chicken stock

1 1/2 c whole milk

1/2 t dried sage

1/2 t dried thyme

2 1/2 c diced cooked chicken

2 cups vegetables

salt & pepper
Biscuit Topping:

2 cups flour

1 T baking powder

1 t sugar

1/2 t salt

1/4 cup butter cut into quarter inch pieces

3/4 c milk

Milk the butter. Stir in onion & celery. Cook until softened. Add flour, stirring 1-2 minutes to brown. Whisk in chicken stock. When it thickens, whisk in the milk. Add sage, thyme, chicken & vegetables. Stir until heated through about 5-7 minutes. Remove from stovetop.

Heat oven to 375. Combine the flour, baking powder, sugar & salt in a bowl. Add the butter and rub into the flour mixture with finger tips. Add milk and stir briskly until dough pulls together. Flour work surface. Knead dough 2-3 times and then flatten to 1/2 inch thick. Cut dough into biscuits and place (barely touching) on top of the filling.

Bake pie until biscuits are golden brown and the filling is bubbly, about 20-30 minutes. Remove from oven and let cool for 5-10 minutes before serving.


Wow, this was an easy meal to make. And it was great. I knew that A would love this dish. She is a huge fan of pot pie. J ate well and I even snuck a few vegetables into B. After a couple of bites he realized it and started spitting the out, but he actually ate 3-4 kernels of corn and couple of carrots and peas. That is a success in itself.
The broth seemed really thin while it was cooking on the stove so I added a bit more flour. I hadn't measure 1/3 cup of flour so I wasn't sure if I had added enough. After cooking the filling had really cooked down and there wasn't much broth left. I'll leave it thin next time. I did make a few other changes. I had no celery so I added celery salt. I used 2% milk instead of whole. I substituted 1 cup of white whole wheat flour in the biscuits. Although the biscuits were slightly browner than traditional biscuits, no one suspected a thing. Here's a close-up of the biscuits.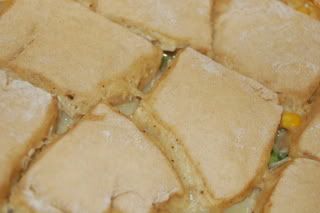 I will definitely make this dinner again.