I haven't been too good at planning and cooking dinners lately. Yesterday morning my husband asked me what we were having and I said I would have to think about it. I then promptly forgot to think about it. When I went to pick up the children from school, I heard a radio report on Shrove Tuesday pancake tradition. It was inspiration, we could have breakfast for dinner. But it wasn't until it was time to cook the pancakes that I realized I was almost out of Bisquick.
I dusted off my King Arthur cookbook and used the pancake recipe. I bought this book years and years ago. Pre-marriage years ago and last night was the first time I used it. I'm glad I finally did. I need to use it more often.
Here's a picture of the extras ready to go in the freezer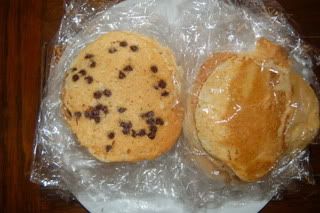 Basic Pancakes
adapted from King Arthur Flour Cookbook
4 cups King Arthur Unbleached All-Purpose Flour

2-4 Tbs sugar

1 Tbs baking powder

1 tsp salt

1 tsp baking soda

4 eggs

1 quart buttermilk, yogurt or sour milk

1/2 c melted butter (optional)

In large bowl, mix the dry ingredients thoroughly.
In second bowl, beat the eggs and buttermilk together until they are light and fluffy. Add the butter or oil. Take about 20 seconds and blend this mixture into the dry ingredients.
I didn't make it exactly. I used 2 c all purpose flour, 2 cups white whole wheat flour. I didn't have buttermilk so I used milk+vinegar instead. I used 3 Tbs sugar & 1/4 c butter.
Overall these were great pancakes. They were light and fluffy, great texture, not heavy at all. That's what I look for in a pancake. A thought they were better than Bisquick pancakes. I thought they tasted a little plain. They needed something extra. DH doused his with syrup and the kids had mini chocolate chips in their pancakes, so they didn't complain about the bland flavor.