Last week, I was spending my morning as I normally do. I
yelled
loudly asked the children to keep moving/put on socks & shoes/eat breakfast/brush teeth. DH came out of the bedroom telling me that I had to make brisket chili. It seems they had some
chef
cooking on the morning news program. Lucky for him that Sunday was the Super Bowl and I actually had a reason to make brisket chili. Plus after reading the recipe and checking out his
restaurants
, I wanted to try it for myself.
We ended up asked a few families over to watch the game plus my mom and sister#5 showed up. I made chili, DH made jalapeno
poppers
and everyone else brought side and appetizers. The chili was a hit. The batch was huge which was good because people went back for seconds and even thirds. DH is already planning to enter the Dad's Club chili cook off next year with this recipe.
I didn't get pictures of the chili on Sunday, but I ended up cooking it down and make pseudo brisket chili sloppy joes for dinner tonight. It was a great use of the leftovers.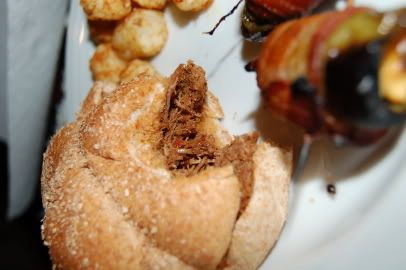 Jason Boso's Brisket Chili
3-5 lbs of brisket

2 large yellow onions slicked

1 cup beef stock

1 large can stewed tomatoes (28 oz)

1 can Lone Star Beer

1 chopped jalapeno

2 T tomato paste

5 T ancho chili powder

1 T light chili powder

1 T cumin

1 T granulated sugar

3/4 T salt

Trim and chop brisket into 1/2 lb pieces. Sear sides of beef in large cast iron pot or braising pot. Remive meat and saute sliced onions in rendered fat left in pot. In another pan, toast all spices together. Once onions are caramelized, scarpe bottom of pan and then add all ingredients and meat. Cover meat 3/4 of way with beer and stock. Cover and simmer for 5 hours or until the meat falls apart.

I misread the recipe and thought it said 1/2 inch pieces, so I was cubing the brisket. About halfway through, DH noticed and corrected me. It wasn't a big deal, it all fell apart anyway. I just put the cubes on top of the big pieces. I also wasn't sure what to include in the toasting the spices part. I left the sugar and salt out and just toasted the chili powders. I didn't have Lone Star, we had an old 16 oz can of Budweiser that has been in our back fridge for at least a year. I finally found a use for it.
This recipe was definitely a hit. I will make it again.