I made this meal back in mid-December. It was in the newspaper, the picture looked okay and I had ground beef. I gave it a try. It was pretty good.
Spicy Beef in Lettuce Cups
adapted from the Dallas Morning News
3 T soy sauce

2 T dry sherry, white wine or Shaoxing wine

2 t cornstarch

1/2 t sugar

1/2 t salt

1/2 lb ground beef

2 T vegetable oil

2 T chopped fresh ginger

1 T chopped garlic

1/2 t red pepper flakes

3 T finely chopped scallions

1 T sesame oil

In a small bow, combine soy sauce, sherry, cornstarch, sugar and salt. Stir will to dissolve the cornstarch.

In a medium bowl, break up the ground beef. Gently mix in the soy sauce mixture. Set aside for 10-15 minutes.

Heat a wok or a large, deep skillet over medium-high until very hot. Add the oil and swirl to coat the pan. Add the ginger and garlic. Cook for about 1 minute, tossing once until fragrant but not browned.

Crumble in the ground beef and use a spatula to break it up and spread over pan to help cook evenly. Let it cook until it changes color on one side, 1 to 2 minutes.

Turn the meat and let it cook another minute undisturbed. Toss well using spatula to break up large chunks.

When the meat is cooked, add the red pepper flakes and the scallions, then toss well. Add the sesame oil and remove from the heat, tossing once more to mix everything well.

Serve in lettuce cups.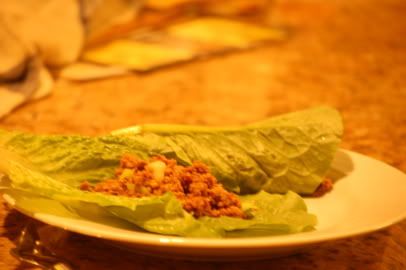 It was late and mid-December so the lighting was bad for the picture. It tasted so much better than it looks. The kids didn't really eat it, too spicy. They like the plain rice I made to go with it. DH liked it but thought it was a little greasy. I think next time I'll use less sesame oil.