I made my
chicken in the crockpot
and then froze the meat. I didn't really need the chicken right then, I just wanted to try the crockpot method. So for the past week I've been thinking about how to use the meat. Yesterday I decided on chicken enchiladas. Another favorite from my childhood that I rarely make.
Since the children probably won't eat them, I experimented. I pretty much took what was in the pantry and in the fridge and threw it in. I didn't feel like the mess or the calories of frying the tortillas. I did a quick internet search for "How to soften corn tortillas" and came up with this
site
. I used the microwave method and it worked fairly well.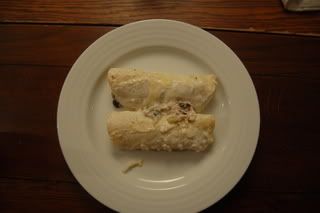 Chicken Enchiladas
couple of cups shredded chicken
1 can black beans, rinsed
1 can chopped green chiles
1/2 onion, finely diced
1 cup fresh spinach, chopped
cumin
10 corn tortillas

2 cups sour cream, divided
1/2 cup chicken stock
salsa (I used 2 tbsp or so of DH's homemade salsa

1/2 cup shredded monterrey jack cheese

Combine the chicken, beans, chiles, onions & 1 1/2 cups sour cream. Mix in sour cream. Add cumin to taste, approx 3/4 tsp. Spray tortillas with Pam, wrap in paper towel and heat in microwave for 1 minute. Add couple tablespoons of filling to middle of tortilla & roll. Place in 9 x 13 casserole dish. Stir some salsa into sour cream and then thin with chicken stock to preferred consistency. Pour over enchiladas, top with cheese. Bake at 350 for 20 minutes.
Overall this meal was kind of blah. My main mistake was that I didn't add any salt. It needed it. The other issue was that it needed some spice. Some pepper jack cheese or jalepenos, something zippy. I didn't put it in because there was a chance that the kids might eat this meal. A did eat it and said it was okay. I ended up making chicken quesadillas for the boys. DH said it was okay, that it had potential. Maybe next time it will be better.