I found a recipe in the newspaper last week in the Double Duty column. That were you cook one meal and then use the leftovers for a second meal. It was for a pork tenderloin. I knew I had one in the freezer so I ripped it out.
The tenderloin was just marinated in italian dressing and roasted. It was good but nothing to rave about. The leftover recipe was Country Noodles and Pork. It seemed simple enough so I gave it a try. Of course, you would think with a name like Country Noodles & Pork, I would check to make sure I had egg noodles. Nope. We had Country Spaghetti and Pork instead.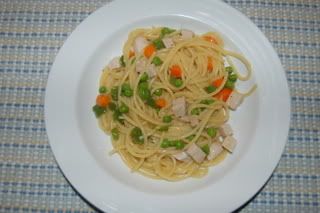 Country Noodles & Pork
adapted from Double Duty recipe
4 cups chicken stock (divided use)

2 T corn starch

8 oz noodles

1/2 c diced red pepper

1/2 c small green peas

2 cups pork diced

2 T butter

Take 1/4 cup of stock & mix in cornstarch and set aside. Bring rest of stock to a boil and add noodles. Cook for 5 minutes. Add peppers & peas. Cook until noodles are done. Stir in stock/cornstarch. Cook until thickens. Add pork and butter.
So I substituted the spaghetti for the noodles. No red pepper, I used green. No tiny peas, I used peas & carrots that I had in the freezer. I left out the butter.
Overall, it was good. DH & A enjoyed it. Both said that I should fix it again. The boys picked at it. J was eventually cajoled into eating it. B threw it across the room. But he throws most of his food. I'm starting to not take this personally.